Whilst there are many large that sell new personal computers, very few allow you to customise a new system to your exact requirements. ACR will take into account what you intend to use your workstation for – together with what software you wish to run on it – and meet your exact requirements. If you wish, we can purchase preferred brands of hardware – or perhaps from specific vendors – so that the finished product is exactly what you had in mind.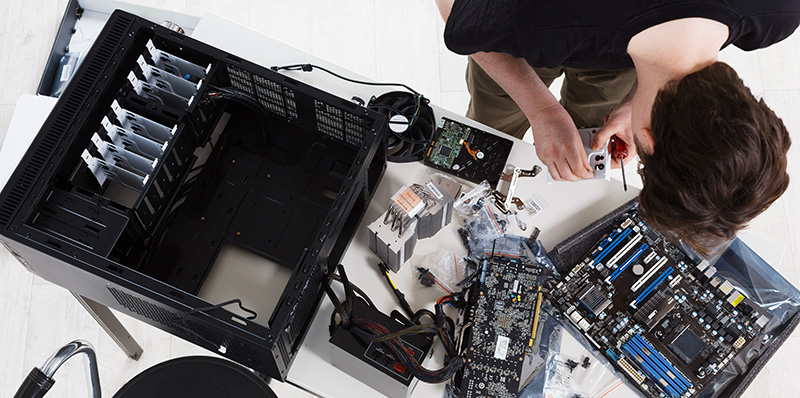 With a custom build, we pick individual parts for performance and budget. This allows us to combine the best parts as opposed to what's convenient. Upgrades are easy. Our custom-built PCs are modular and their components are easily swapped out for new or better versions.
Custom Built Computers
We will always ensure that the most suitable operating system (Microsoft Windows 7, 8, 8.1 or 10) is installed and – if specified – within your desired budget. In addition, we can install productivity applications (e.g. Microsoft Office) and endeavour to keep your data safe by including suitable anti-virus and malware removal software. All software used on your computer will be purchased legally and licensed in your name.
If you already have a computer (or computers) and you are looking to replace it with a new system, we can transfer all your data and applications (where licensing permits) so that when you switch on your computer for the first time, it simply works and you can start using it immediately. In addition, we can have your old computer recycled and – particularly in the case of businesses – arrange to have any redundant hard drives securely destroyed.
Due to design configurations, we cannot build laptop computers from scratch but it is often possible to upgrade new or existing machines that may be close to the specification that you need. Once we agree upon an estimate, we can usually finish your machine within 3-5 working days. Please note that additional time may be required to migrate your existing applications and personal data.
Looking to upgrade or build from the ground up we can help. Our computers are hand-assembled in our store by local technicians who love what they do. Call  678-899-6800 to discuss your custom builts and refurbished computer needs.