Martin LT
September 1, 2022.
I am extremely pleased with Alpha Computer Repair. For me, customer service and professionalism are paramount and Chuck exceeded my lofty expectations. He knew EXACTLY the repair that my laptop needed within the first 2 minutes of our conversation. I anticipated the repair taking 2-3 weeks, but it only took 2-3 days and the power of its i7 has been unleashed. GREAT SERVICE + SPEEDY REPAIRS = A CUSTOMER FOR LIFE
Kristin Rivera
August 23, 2022.
Can't say enough good things about Alpha Computer Repair! I was in and out in 5 minutes WITH a working computer. Extremely knowledgeable and willing to go above and beyond. This will be my new go to place for all computer repairs and tech issues. Thank you!!!
Margaret Ryan
August 12, 2022.
Chuck was very quick to diagnose my laptop issue. Diligent about getting it fixed correctly with a very reasonable charge. Would highly recommend seeing him. Margaret
Christy Share
July 31, 2022.
Chuck has repaired multiple items for our family (2 laptops, 1 iPhone) and has done a fantastic job! He is honest and efficient, we highly recommend his services!
Debbie DuBois
July 11, 2022.
I cannot tell you how comforting it is to have Chuck and his team at the ready when things aren't working. I have a digital marketing agency and count on my computer. He's incredibly knowledgeable and FAST when you need help. He also sped my computer up so much it feels like a new computer, adding a hard drive just for my video production. You don't need to struggle any longer with a computer that won't keep up with you. Call Chuck and team. He's reasonable AND awesome! Can't say enough good things!
John Riggle
March 30, 2022.
I went to Alpha upon the suggestion of Best Buy in Canton. It was either Alpha nearby or Apple in Alpharetta. My MacBook Pro screen was finished according to Best Buy. To make long story short: Chuck at Alpha was great. He searched for a screen -- with supply-chain issues, no easy task. He found one and said it and my computer would be ready the following Wednesday -- a day when Alpha is closed. Chuck phoned me on Wed. p.m. to say that my MacPro was ready. I picked it up because he came to the store (closed) to give me my computer. Talk about service! Chuck and Alpha are absolute tops in my book.
Sherri York
March 26, 2022.
It was easy to relay my computer issues with Owner, Chuck. There were severe security firewall situations even though I had McAfee which failed to secure my computer. He also noticed my computer was running very slow so he replaced the hard drive. His pricing is fair and I'm one happy customer!
Richard Wiernek
March 21, 2022.
Chuck was great, I brought him my laptop on a Friday afternoon just a couple hours before he was set to close. Rather than tell me he couldn't do anything until Monday (like most places would), he got right on it, diagnosed the issue, and searched for a part to overnight so he could fix it straight away. Unfortunately, the part was delayed (as is expected these days), but Chuck stayed in touch with me throughout the weekend. He even delivered it to me Monday morning to make up for the delay, even though the delay was not his fault. And the price was very competitive, his labor rate is the best in the business. Will 100% recommend and use Alpha-Computers again, I'm very happy that this local business is in our area.
Mike Burns
March 18, 2022.
I was having some problems with HP laptop. Chuck was able to remote to my device and helped me. I recommend Alpha for all PC repair.
iPhone Repair Service in Canton, GA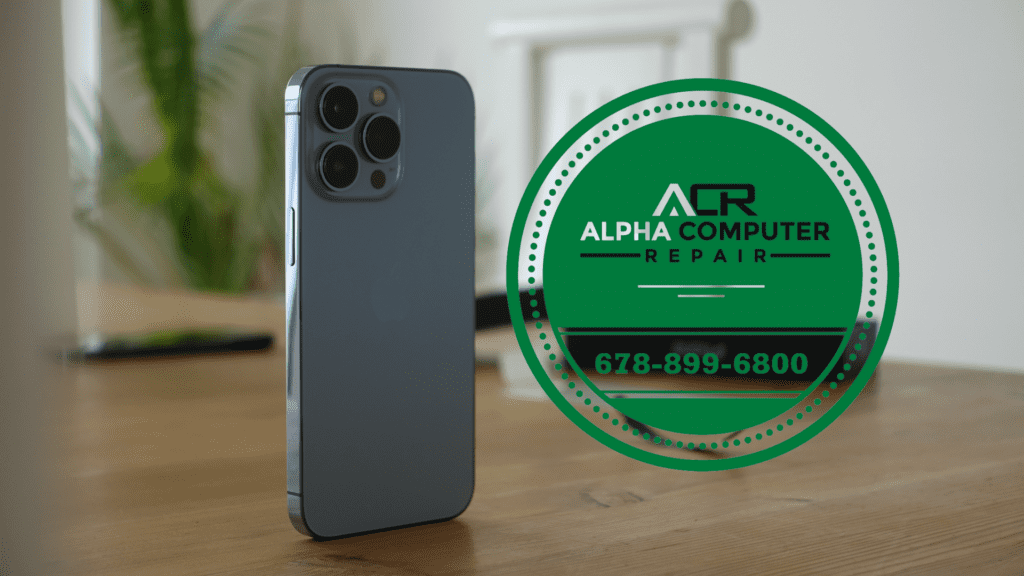 Our iPhone repair back glass experts are ready to help!
We are conveniently located next to Marco's Pizza in Canton, GA.
Need your computer or iPhone fixed ASAP? 
Has your computer crashed at the worst possible moment? Is your iPhone displaying an unresponsive screen? Don't panic! At AlphaComputers, we understand the urgency of getting your devices up and running quickly. That's why we're thrilled to introduce our Rapid Repair Service, designed to address your computer and iPhone issues with unparalleled speed and efficiency.
Looking to repair your iPhone device or laptop computer? Alpha Computers has been established as Canton's best computer and Apple device repair shop. We repair many different types of devices including computers, smartphones, tablets, etc…
Our affordable prices and great services keep customers coming back for more. Visit our shop for the best computer and Apple device repair right here in Canton!
Same-Day Fixes for Computers and iPhones: Your Tech Woes, Solved Right Away!
Looking for a computer and Apple device repair shop in Canton? We provide an instant repair of electronic devices. Our services are of superior quality and reasonably priced.
Our on-site services ensure that your computer is repaired quickly.
We set up, troubleshoot, and maintain computer networks and infrastructure.
We can resolve any technical issue with your PC or network at your home/office.
We can fix your desktop or laptop without having to haul it into our shop
Buy a refurbished laptop or custom-built PC and we'll deliver it to you
Same day repairs and part replacements for Apple devices and smartphones
We can fix your desktop or laptop without having to haul it into our shop
Same day repairs and part replacements for Apple devices and smartphones
Malware protection and secure file storage based on your performance and needs are available
iPhone same day repair
Your iPhone is not working properly? We repair any model of iPhone: 5, 5S, SE, 5C, 6, 6 Plus, 6S, 6S Plus, 7, 7 Plus, 8, 8 Plus, X, XR, XS, XS Max and including the latest iPhone models, 11, 11 Pro, 11 Pro Max and the iPhone SE 2nd generation 4.7 inch (iPhone SE 2020). Get a new iPhone's screen, battery, or charging port installed on the same day. Fix your iPhone today with our low season prices. Come to repair your broken iPhone, and you will have your iPhone repaired in minutes with the most reliable quality parts and best warranty.
iPhone and PC Solutions
iPhone Back Glass replacement ready in 60 minutes
iPhone LCD replacement
iPhone data recovery service
PC / Servers repair and upgrade